Dentist in Cape Coral
, FL
Meet our team at Desai Dental Studio. Please take a few moments to learn about our skilled Cape Coral cosmetic dentist and our friendly, knowledgeable staff. All our professionals maintain the highest levels of accreditation and pursue ongoing education to stay abreast of the latest trends in cosmetic dentistry.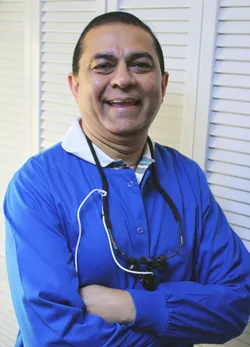 Sudhanshu "Sam" Desai, D.D.S.
Dr. Sam Desai has been a dentist for more than 25 years. He received his dental degree (BDS, MDS) in prosthetics from a dental college in India. He graduated with a DDS degree from NYU College of Dentistry in 1993 with honors. He moved to Florida in 1996. He is very passionate about helping his patients and achieving the best healthy smile from them. He treats his patients like family. He has a vast experience with special interest in cosmetics, implants, and orthodontics. Dr. Desai is very active in local, regional, and state dental societies. He has held every line officer position in the Lee County Dental Society including President, and he served as President of the West Coast District Dental Society from 2013 to 2014, which is part of the Florida Dental Association and the American Dental Association. Dr. Desai is passionate about helping the needy and underserved populations of Southwest Florida. He is married to Dr. Sandra Desai (podiatrist) and he has 3 daughters. Along with his family, Dr. Desai volunteered with the Florida Mission of Mercy held in Tampa in early 2014. This project served over 1600 patients from all areas of the state of Florida. Locally, he participates with Project Dentist Care in Fort Myers and Give Kids A Smile days throughout the county on a regular basis. Welcome to Desai Dental Studio, we look forward to meeting all of your dental needs.
---
Julissa Melendez, Expanded Duties Dental Assistant
Julissa is a dental assistant and graduated from Heritage Institute in 2013. She started her dental career 4 years ago. Her passion is to help people and calm them through every stage of their treatment. She loves seeing patients' excitement once they have completed treatment and can enjoy having a healthy smile. When Julissa is not working, she loves spending time with her daughter and fiance. She also loves anything outdoors, especially traveling, kayaking, fishing. She is very excited to help you with all your dental needs! Outside of work she enjoys traveling, reading, dancing, gardening and spending time with her family Julissa Melendez -Julissa received her certification for Expanded Duties Dental Assistant and license for Dental Radiographer in 2013. she has been a dental assistant for 5 years. Julissa is very caring and compassionate with her patients, and makes everyone around her laugh! Originally from NYC but relocated to Florida as a child and a descent from Puerto Rico. She is very excited to help you with all your dental needs!
---
Sahana Kodimoole, RDH, Hygienist
Sahana is originally from India. She moved to Florida 7 years ago and has been living in SWFLfor the past 3 years. Being a trained dentist from India, she is very knowledgeable and passionate about dental care. She started her career as dental assistant, but later went on to complete the requirements of Dental board and obtain dental hygiene license for the state of FL. Sahana is friendly,caring and compassionate to all her patient!
---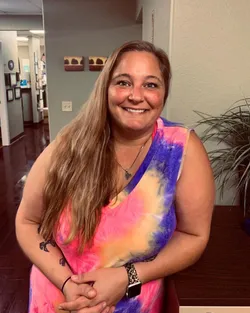 Angela Springer, Insurance Coordinator and Receptionist
Angela moved to Cape from Pennsylvania in 2017, she has been in the dental field for almost 20 years and it shows with her compassion for each patient that walks through the door! Angela is very passionate about her work and will do everything she can for the patients.She is very excited to help you with all your dental needs! Angela and her husband have toddler twins which definitely keep them extra busy!
---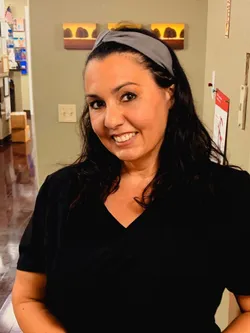 Susie
Susie moved here from Ohio in January 2019, with a 20 year background in Photography. Deciding to change careers, she started as patient transporter, then clinic manager for a mobile dental clinic. She quickly learned her new love for dentistry. Susie is a 2020 graduate of The Institute of Medical and Dental Technology, with a certificate in Expanded Functions Dental Assisting. She loves helping her patients through their dental procedures. In Susie's spare time, she loves going to beach, spending time with her boyfriend and taking wildlife and scenery photography.